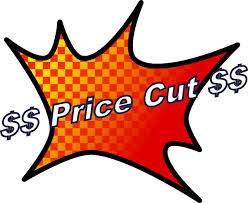 I have noticed that almost every product I ever see in a store has an apparently reduced price. Another thing I've observed is that the original price was so high that I doubt it was ever sold for that much. I assume that most of the time the discount prices are the actual value of the product. It usually looks something like this:
Jeans
Original Price: 34.99
You Pay: 29.99
CD
Suggested Retail Price: 14.99
Your Price:12.99
But retailers are overlooking one major asset; They fail to recognize the full potential of this technique, but instead make very small discounts on the price tags. If I were to run a business I think I might just take this idea a step further and to every item in the store do something like this:
Shades
Original Price: $8.99
Your Price $1.99
Bag of Chips
Suggested Price: $12.99
You Pay: $1.99
Couch
Original Price: $3999.99
Only $499.99
This would not only make customers feel like they were getting a great deal, it would also allow me to charge more money on the final price while still keeping it much lower than the original price.